DEFEND WHAT MATTERS
Defender solves foot care issues, from heel pain to diabetic foot ulcers, so you can live your best life.

SHOP OUR SOLUTIONS
Protective Boot for Foot Wounds

Sale price

$250.00

Regular price

$349.00

Unit price

per

Shop Now

Innovative Shock Absorbing Heel Orthotic

Sale price

$26.99

Regular price

Unit price

per

Shop Now
DEFENDER, FOR WOUND PATIENTS
Defender was founded by Dr. Jason Hanft, a podiatric surgeon and the foremost expert in wound care. Dr. Hanft contributes over 30 years of experience working with a broad spectrum of patients, from elite athletes to the most critically complex diabetic foot ulcer (DFU) patients. By combining Dr. Hanft's expertise with industry-leading shoe designer Michael DiTullo's style and engineering, Defender has been able to develop smart foot care solutions that protect and heal a wide range of foot conditions.
5+ Years
Defenders' flagship product, Foot Defender, is the result of diligent design and engineering through 39 iterations over five years.
50%
In clinical studies of patients, Foot Defender alleviates average contact pressure across the foot by up to 50% compared to other protective boots on the market.
For Professionals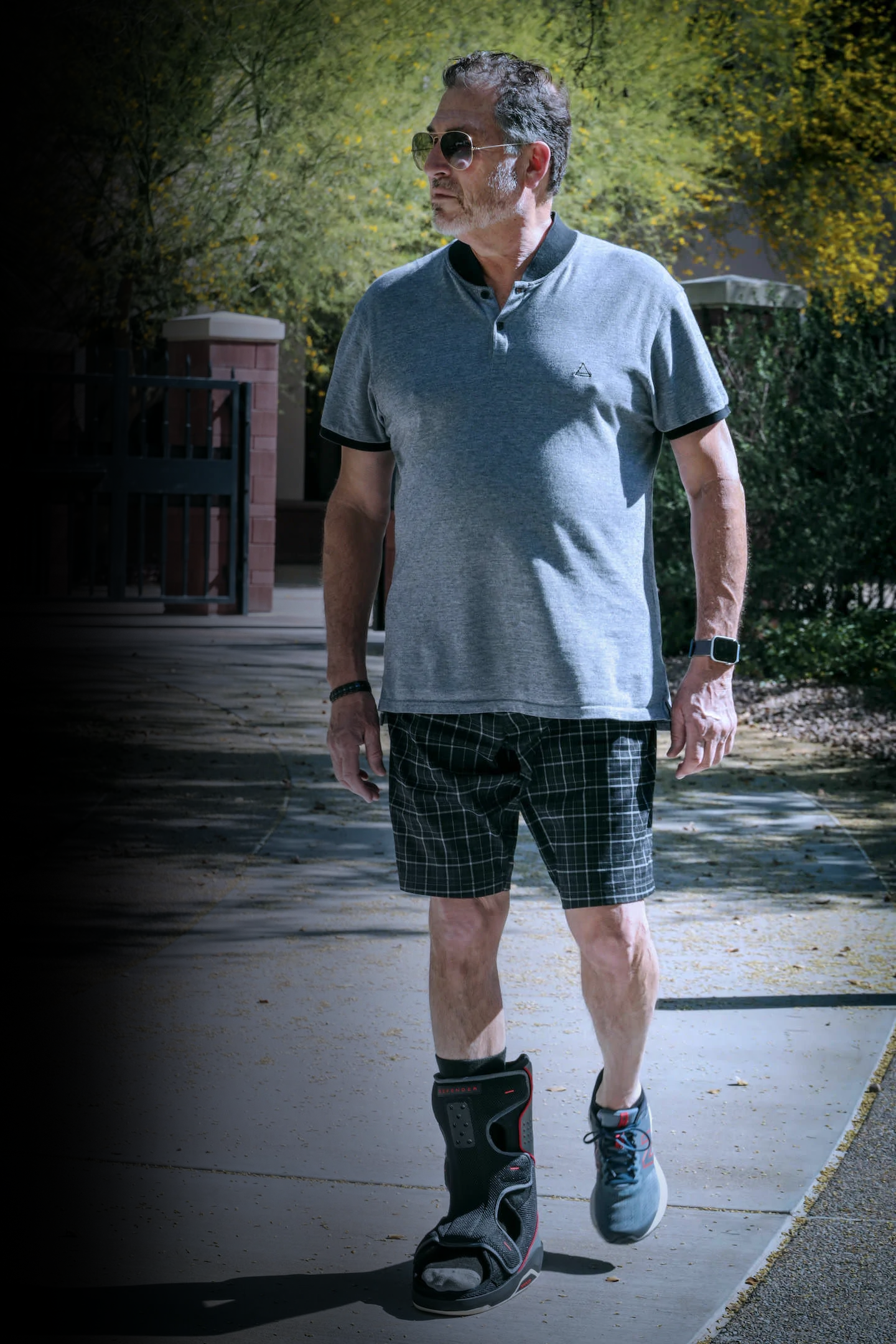 It is great to see the merger of the very best of thoughtful patient-centric design & next-generation materials emerge into a device focusing on offloading & amputation prevention.

David G. Armstrong,

DPM, MD, PhD

Professor of Surgery, Keck School of Medicine of University of Southern California

Foot Defender provides superior force reduction and protection, a functional device that patients will want to use.

Adam Landsman,

DPM, PhD, FACFAS

Assistant Professor of Surgery, Harvard Medical School

Finally, with Foot Defender, we have an effective offloading option that patients won't mind leaving the office in and will actually wear after they get home!

Dot Weir,

RN, CWON, CWS

Saratoga Springs, New York Co-Chair, Symposium on Advanced Wound Care | Faculty, Wound Certification Prep Course | Secretary, International Wound Infection Institute
TAKE YOUR STEP
Confidently rely on Defender to deliver greater relief, comfort and healing so you can get back to living your life.
SHOP DEFENDER
Meticulous Design
Defender works tirelessly to apply exacting engineering principles to beautifully designed products, resulting in a suite of products that are unrivaled and patients will use.
ABOUT US
JOIN THE DEFENDER COMMUNITY
With Defender, you make the choice to heal and live your best life every day. Join the Defender community on Instagram and share why you #DefendWhatMatters.
FOLLOW DEFENDER

Free SHIPPING
Free Standard Shipping on Retail Orders in the USA
FREE RETURNS
CUSTOMER SERVICE
Read our Frequently Asked Questions