FOOT DEFENDER+
The intelligent protective boot monitors patient's rehabilitation compliance to the clinician's prescribed stabilization and mechanical offloading protocol.
Coaching
Easy to use application provides users with real-time feedback on adherence and compliance to physicians orders.

Clinical Dashboard
Clinical dashboard provides adherence and compliance information. It also tracks the time the clinician spends on each patient per month to facilitate remote patient monitoring billing.
HOW THE FOOT
DEFENDER+ WORKS
The smart footwear combines the Foot Defender boot with Sensoria's Core microelectronics, patient mobile app and a clinician dashboard. The system monitors healing of the patient's diabetic foot ulcer and compliance with the rehabilitation protocol.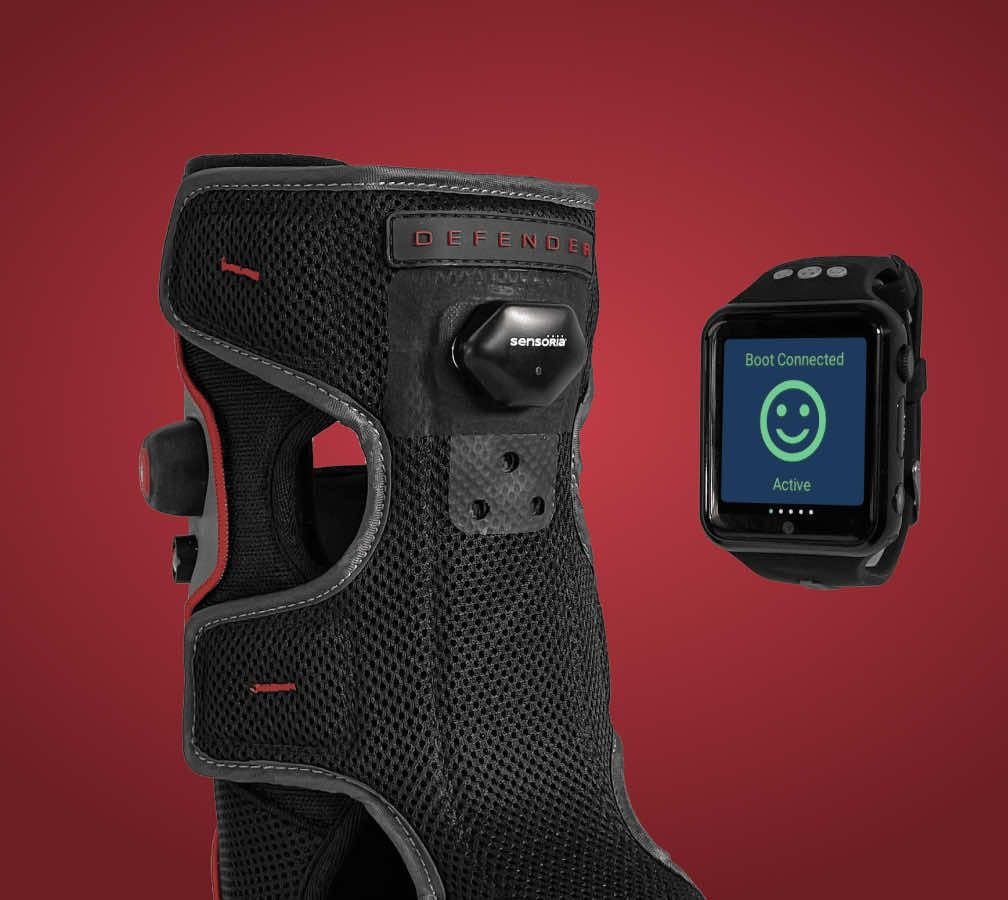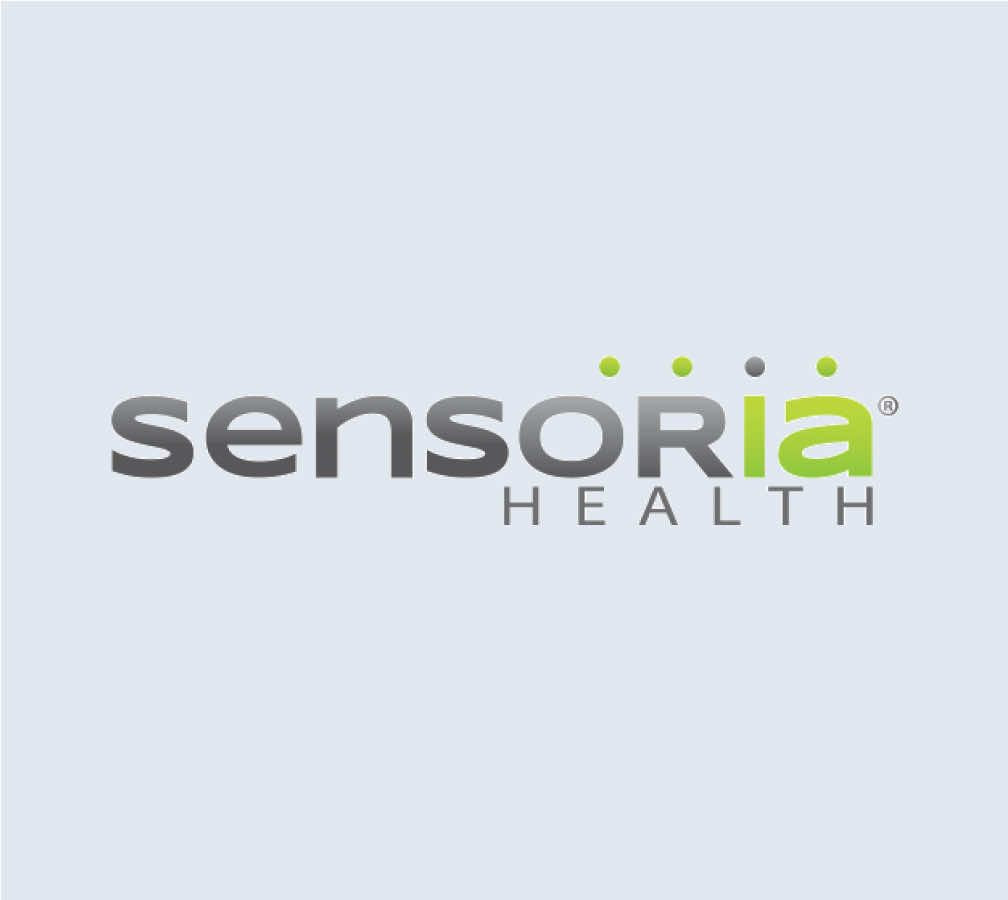 REMOTE PATIENT MONITORING WEARABLE TECHNOLOGY
The combination of Sensoria's remote patient monitoring wearable technology, behavioral feedback enabled mobile app, artificial intelligence Microsoft Azure cloud software solutions along with Defender's unique medical footwear design, and clinically proven offloading technology will change the way diabetic foot ulcers are treated.
COACHING & CLINICAL DASHBOARD
COACHING
The Diabetic Foot Ulcer Boot App coaches patients on their compliance.
Tracks activities like steps, minutes active, minutes resting and how long the boot is off.
The app communicates directly with the physician's system providing them real-time updates on the patient.
Clinical Dashboard
The Foot Defender+ powered by Sensoria offers RPM opportunities to physicians. The boot continuously monitors patient compliance. Sending patients and physicians valuable data that will help guide and alter treatment plans. The Sensoria Dashboard calculates the amount of time the physician is monitoring the patient to determine if they can be reimbursed for remote patient monitoring. Physicians are now able to bill Medicare for these services.
FOOT DEFENDER+ PARTNERS



FREQUENTLY ASKED QUESTIONS
CAN FOOT DEFENDER BE WORN ON EITHER FOOT?

Yes! Foot Defender was designed to be worn on either the left or right foot.

HOW DO I PUT ON MY FOOT DEFENDER AND ADJUST IT?

Foot defender is easy to put on, take off, and adjust. Written instructions for the use of Foot Defender can be foundHERE and a walkthrough video in how to use Foot Defender can be viewedHERE.

HOW DO I CLEAN MY FOOT DEFENDER?

You can keep your Foot Defender clean by using a baby wipe or a disinfecting wipe. Let it air-dry before wearing it again.

SHOULD I WEAR A SOCK WITH MY FOOT DEFENDER?

Yes, always wear your Foot Defender with a sock and/or compression bandage, as instructed by your healthcare provider.

WHAT DO I WEAR ON MY OTHER FOOT WHEN I WEAR MY FOOT DEFENDER?

Wear a running shoe on your other foot. This will help to keep your feet as evenly balanced as possible.

HOW LONG CAN I WEAR MY FOOT DEFENDER?

The length of time people wear Foot Defender is different from person to person. Your healthcare provider will decide what's best for you. Please follow their instructions. It is important to wear it until you're told to stop, even if you're noticing improvements.

HOW DO I CLEAN MY FOOT DEFENDER?

You can keep your Foot Defender clean by using a baby wipe or a disinfecting wipe. Let it air-dry before wearing it again.

IS FOOT DEFENDER AVAILABLE IN DIFFERENT SIZES?

Yes, Foot Defender is available in small, medium, and large sizes. See the helpful sizing chartHERE. 

DOES FOOT DEFENDER QUALIFY FOR INSURANCE REIMBURSEMENT?

Yes, Foot Defender is covered under insurance plans. But plans and coverage may vary. To learn more about coverage under your plan, please contact your insurance company.
*Foot Defender is PDAC Approved Code L4361, which is covered by insurance in every state.

WHERE CAN I BUY FOOT DEFENDER?

Anyonecan purchase Foot DefenderHERE.

Medical Professionalscan set up a pro accountHEREand have exclusive access to wholesale pricing. Foot Defender can be purchased through an authorized medical sales representative or a DME supplier in the U.S.

HOW MUCH DOES MY FOOT DEFENDER WEIGH?

Foot Defender is lightweight, sturdy, and durable. The weight varies slightly by size.

CAN FOOT DEFENDER BE USED FOR ORTHOPEDIC ISSUES, SUCH AS SPRAINS AND FRACTURES?

Yes, Foot Defender is usable for other types of injuries, too. Ask your provider if it can be helpful for you. 

CAN I DRIVE WHILE WEARING MY FOOT DEFENDER?

Yes, you can drive while wearing Foot Defender.

WHY DOES FOOT DEFENDER LOOK LIKE A SNEAKER OR COURT SHOE?

Foot Defender was designed from the ground up to be different from other healing devices. It's made with performance sports materials used in high-end sneakers. 

Its award-winning design also makes it more comfortable, easier to adjust, and put on and take off, than other healing devices. And because Foot Defender looks better, feels better, and works better — you'll have increased wear time and improvements in healing.

FREE SHIPPING
Free Standard Shipping on Retail Orders in the USA
FREE RETURNS

CUSTOMER SERVICE
Read our Frequently Asked Questions